Toivo Klaar, the European Union special representative (EUSR) to the South Caucasus and the crisis in Georgia, has been in Armenia for an official two-day visit.
Yesterday (13 September), Klaar and his delegation were received by the Armenian prime minister, Nikol Pashinyan, in Yerevan. Welcoming the EUSR, Pashinyan described partnership between the EU and Armenia as "dynamic", highlighting the visits of both the president of the European Council, Charles Michel, and the EU commissioner for neighbourhood enlargement, Oliver Varhelyi, in July. He noted that his government was currently working on the finalisation of the priorities of the €2.6 billion financial package, which the EU agreed to provide to Armenia earlier this year. According to the readout by the office of the prime minister, Klaar reaffirmed the political commitment of the EU to continue providing assistance to Armenia in the areas that it prioritises. The men reportedly discussed issues on the agenda of the EU-Armenia partnership, including the prospects of developing ties in the fields of infrastructure, trade, economy, and business, amongst other things.
According to the Armenian readout, the prime minister and the EUSR exchanged views on the settlement of the Nagorno-Karabakh conflict, both stressing the importance of resuming talks within the framework of the OSCE Minsk Group Co-Chairs. They are also reported to have exchanged views on the opening of regional transport corridors.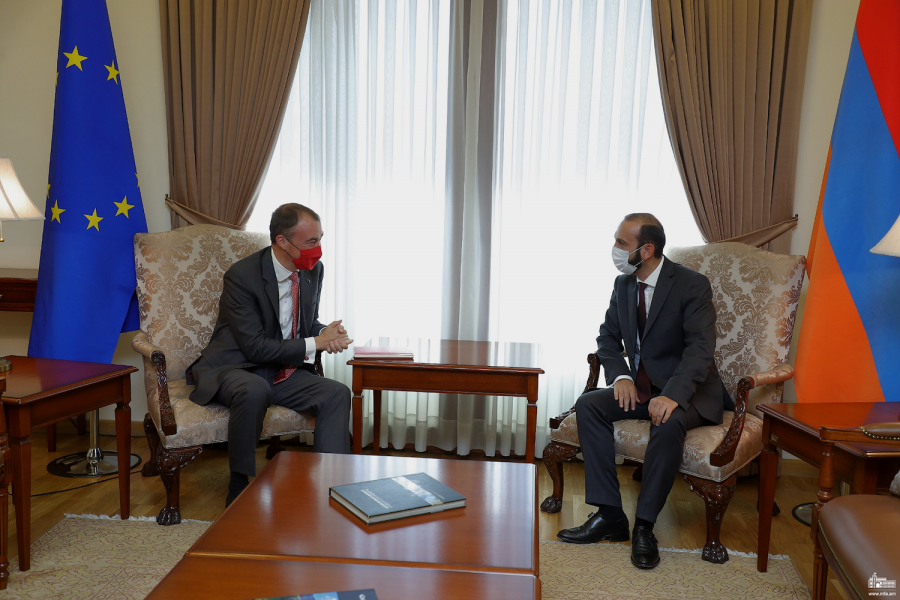 Whilst in Yerevan, Klaar also met with Ararat Mirzoyan, the Armenian minister of foreign affairs, for a discussion on issues of regional security. According to the readout by the Armenian foreign ministry, the men emphasised the need for a "comprehensive and lasting settlement of the Nagorno-Karabakh conflict under the auspices of the OSCE Minsk Group Co-Chairmanship". Mirzoyan stressed that in order to ensure regional stability and security, it was important for the ceasefire to be maintained; for the Armenians that remain in Azerbaijani detention to be released immediately and without condition; and the "renouncement" of what he called "Armenophobic, warmongering rhetoric". Mirzoyan also expressed that the alleged presence of Azerbaijanis on Armenian sovereign territory and the conducting of military drills by Azerbaijan in Nagorno-Karabakh undermine efforts to de-escalate the region.
Following his meetings, Klaar tweeted emphasising the importance of the reducing rhetoric, de-escalation and building new connections:
Excellent meetings in 🇦🇲 today with PM @NikolPashinyan, Deputy PM Grigoryan and FM @AraratMirzoyan. Discussed the situation in the region and 🇪🇺readiness to contribute to regional peace. Important to reduce rhetoric, de-escalate and build new interconnections pic.twitter.com/exZzMM2gQV

— Toivo Klaar (@ToivoKlaar) September 13, 2021
Following Armenia, Klaar is expected to visit Azerbaijan in the coming days.
photo: Toivo Klaar, European Union's special representative (EUSR) to the South Caucasus and the crisis in Georgia, during his meeting with the Armenian prime minister Nikol Pashinyan, in Yerevan, 13 September 2021; The Office of the Prime Minister of Armenia