Yesterday (12 October), the prime minister of Armenia, Nikol Pashinyan, arrived in Moscow to meet with the Russian president, Vladimir Putin. 
Greeting his Armenian counterpart, Putin said that while telephone conversations such as the one they shared last week were useful and productive, but they were no substitute for face-to-face meetings. "We will talk in both formal and informal atmospheres. We will have lunch, discuss current issues, and talk about our plans. We will soon have a CIS summit, and I would like to synchronise our watches for this, and of course, for our main cooperation goals, including the settlement in the region today and in the long-term perspective", said Putin.
Pashinyan stated that "such frequent meetings testify to the high dynamics of our relations, the mutual understanding, the importance of our strategic allied relations. Of course, dynamic processes are taking place in our region and all over the world, and it is very important that the allies meet often, talk, as you said, achieve a consent over positions. Of course, unfortunately, we cannot talk about the full stabilization of the situation in our region. As you noticed, the Nagorno-Karabakh conflict remains unresolved, and it is clear that Russia, which is also an OSCE Minsk Group co-chairing country, plays a key role in resolving the conflict and ensuring security in our region. All these issues are very important, they are key issues. I am very happy to discuss this whole agenda with you."
According to the Armenian readout, the two leaders discussed the implementation of the trilateral declaration of 10 November 2020 and the trilateral statement of 11 January 2021, as well as areas for increased co-operation and the strengthening of stability in the region.
Pashinyan later announced that the meeting had been productive, tweeting in Russian: "Today I met with Russian President Vladimir Putin. The meeting was very productive. We discussed both the bilateral agenda and the situation in the region. We will continue our contacts to implement the agreements reached".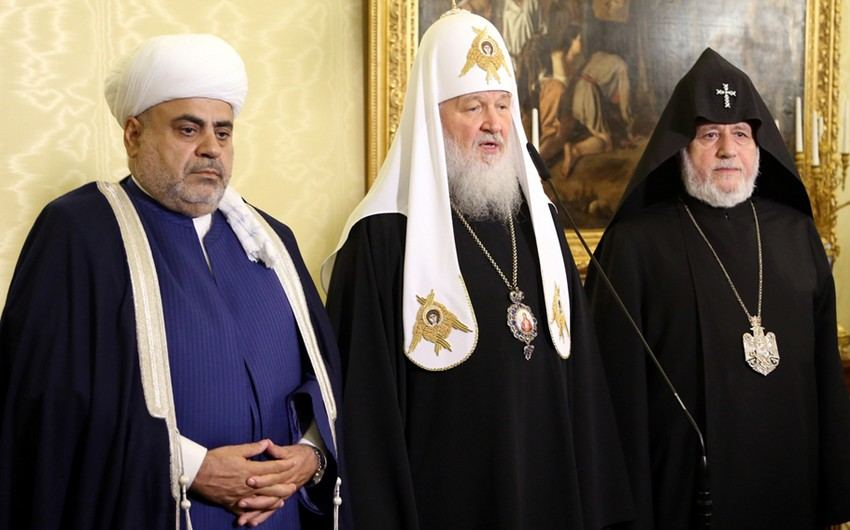 A high level meeting is also taking place today between the religious leaders of Armenia, Russia and Azerbaijan. Yesterday, the head of the Russian orthodox church, the Patriarch of Moscow and All Russia, Kirill I, met with His Holiness Karekin II, Supreme Patriarch and Catholicos of All Armenians, as well as with the Chairman of the Caucasian Muslims Office, Sheikh-ul-Islam Allahshukur Pashazade. 
photo: Pashinyan and Putin meet in Kremlin; Website of the prime minister of Armenia