The caretaker prime minister of Armenia, Nikol Pashinyan, has offered his son, Ashot Pashinyan, in exchange for all of the Armenians remaining in Azerbaijani detention. Speaking to a crowd on 9 June in the Syunik region's Metz Mantash community, Pashinyan confirmed:
"Yesterday I announced, and today I have instructed our relevant bodies to officially convey our offer to the Azerbaijani side that my son is ready to go to Baku as a hostage on the condition of the return of all our captives."
Ashot Pashinyan confirmed on his facebook account on 8 June that he would indeed be willing to go to Azerbaijan "or any other condition for the return of Armenian soldiers".
Image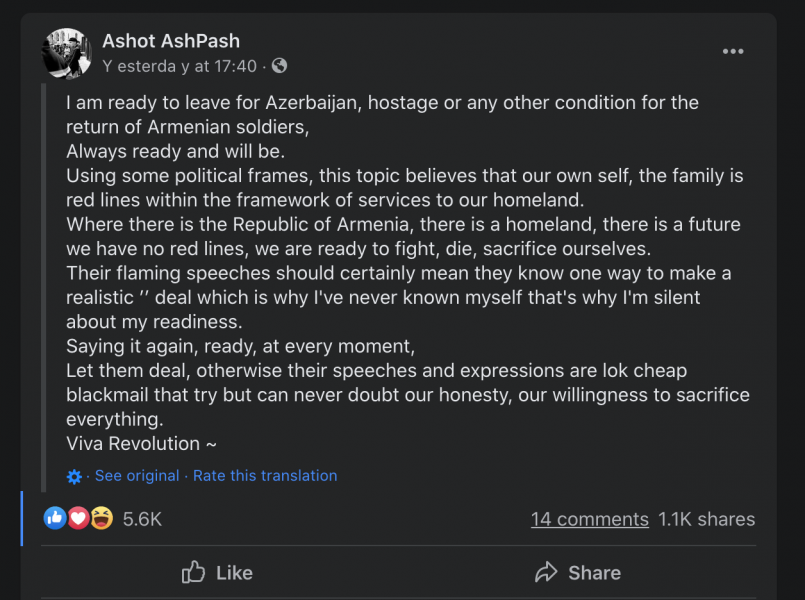 Nikol Pashinyan's announcement appears to be in response to comments by the country's third president, Serzh Sargsyan, who reportedly questioned why Pashinyan hadn't proposed trading his son for 20-25 of the Armenians captives. According to Armenpress, the caretaker prime minister addressed both Sargsyan and Armenia's second president, Robert Kocharyan – both of whom are competing against Pashinyan in the 20 June Armenian elections – authorising them to negotiate over the deal:
"You should never think that this is an emotional announcement. I say it officially, go and negotiate!"
Pashinyan's statement was criticised today (9 June) by the leader of the Bright Armenia party, Edmon Marukyan – also participating in the 20 June elections – who dismissed the suggestion as unserious. According to News.am, speaking to voters in Armenia's Kasakh village, Marukyan called Pashinyan's comments "fake rhetoric" and asked "What century are we living in? How can Azerbaijan take someone's son as a captive in exchange of other captives?"
Pashinyan's suggestion was also criticised by the Armenian Ombudsman, Arman Tatoyan, who wrote in a statement on facebook:
"During the election campaign, it is unacceptable to manipulate the issue of the return of captives illegally held in Azerbaijan, or to discuss the possibility of exchanging captives for other individuals, and the willingness of these individuals to be exchanged.
"It is obvious that [such an exchange] cannot happen, and the manipulations only increase the tension in the country, and make the return of the captives more difficult."
A press release by the European Court of Human Rights on 16 March suggests that there are somewhere between 72 and 249 Armenians – both military and civilian – that remain in Azerbaijani detention, alongside the six servicemen captured during the ongoing border dispute on 27 May. International pressure continues to mount on Azerbaijan – including from the US, the European Parliament and the OSCE Minsk Group – for it to release the those remaining in its detention regardless of status. Azerbaijan maintains that all those that it continues to hold are "Armenian saboteurs, who were found to be unlawfully in Azerbaijani territory weeks after the signing of the tripartite statement on 10 November 2020, which mandated the cessation of all hostilities". In a statement on 19 May, the spokesperson for the Azerbaijani Ministry of Foreign Affairs said:
"Azerbaijan is lawfully detaining these individuals as a matter of both international and domestic law while it investigates and as appropriate, prosecutes them for murder, sabotage, or other crimes committed under Azerbaijani law."
source: commonspace.eu with hetq (Yerevan), Armenpress (Yerevan), News.am (Yerevan) and agencies
photo: Nikol Pashinyan speaks to crowds in the Metz Mantash community; screenshot facebook (Nikol Pashinyan)